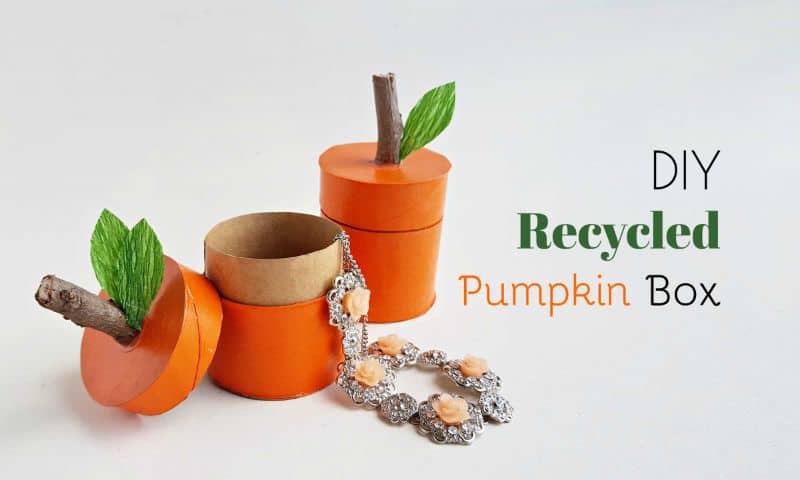 Make recycling fun and crafty this Fall season. Try making these recycled pumpkin boxes from leftover toilet paper rolls and encourage your little ones to recycle more! This recycled pumpkin box craft isn't just fun to make but also really useful; you can store little jewellery pieces or us it as a gift box.
If you don't want to make a pumpkin box, it's okay! Simply recycle a toilet paper roll into a box and decorate it however you want to. 
List of Supplies
Toilet paper roll

Brown cardstock paper

Ruler

Scissors

X-acto knife

Craft glue

Pencil

Acrylic paint

Paint brush

Dry twig
Learn how to make a recycled pumpkin box from toilet paper roll!
Step 1
First of all, determine the sizes for the box and the lid. Use a pencil and a ruler to measure and mark the determined height for the box and the lid.
Step 2
Cut out the parts for the box and the lid from the toilet paper roll by using an x-acto knife.
Step 3
Cut out a strip of a cardstock paper. The length of the strip should be long enough to wrap around the roll once and the width should be the sum of the box and lid's height. Roll and place the cardstock strip inside the box roll cutout, and make sure that any 1 end of the rolled cardstock paper is leveled with either end of the box roll. Use a pencil to mark the edge where the strip covers 1 roll inside the box roll.
Step 4
Take out the cardstock roll from the box roll and apply craft glue on the inner surface of the box roll.
Step 5
Neatly roll the cardstock strip and place it inside the box roll. Press the cardstock roll against the inner glued surface of the box roll to make sure that they are glued nicely.
Step 6
On a cardstock paper place the roll and trace around its outer border on the cardstock. Cut out 2 circles; 1 for the bottom side of the box and 1 for the top side of the lid. Apply a thin line of glue around the border of the circle cutouts.
Step 7
Take the box roll and carefully place it on the glued bordered circle cutout; making sure that the box roll's open end is perfectly sealed with the cardstock circle. Similarly, attach the other circle cutout with the roll prepared for the lid. 
Step 8
Paint the box and lid's outer surface using acrylic paint. I'm using orange acrylic paint. Apply 2 coats (2nd coat should be done after th 1st coat dries) of paint if required. 
Step 9
Once the paint dries completely, glue a small dry twig on the center of the lid's top and tada! 
Isn't recycling fun! Let's get crafty and green this Fall!