DIY Mother's Day Card (with free Printable Template)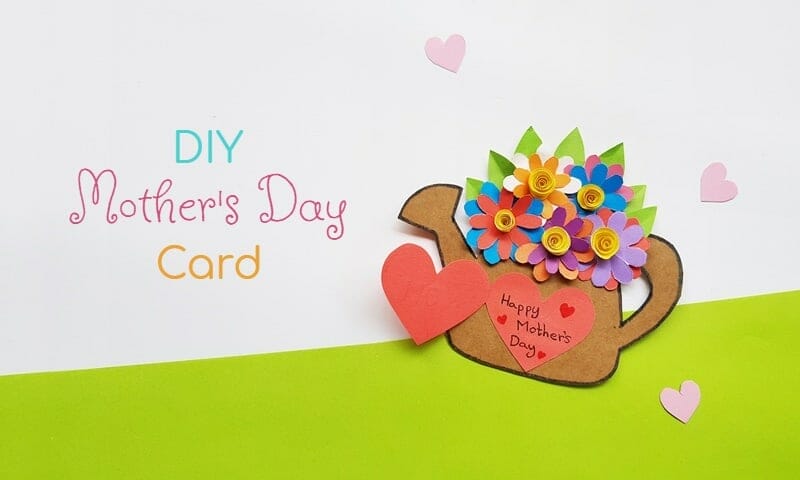 I love-love-love making greeting cards, it's way fun and exciting to make greeting cards for special occasions (mother's day, father's day, valentine's day, etc.). Not that I don't buy gifts or cards buy Why not craft some at home? This mother's day, add a little handmade love to wish the most beautiful and awesome lady in your life. This DIY Mother's day card is super fun to make and turns out so bright and colorful!
Craft a Mother's Day Flower Card
I'm really happy with how the card turned out. Such a colorful, fun and exciting pattern! So, what are you waiting for? Grab some supplies, spare a few minutes and make one now!
Meanwhile, also check out my Quilled Tulip Card or String Heart Card if you're looking for more DIY mother's day card ideas.
How to Make Mother Day's Card
Supplies:
Colored craft papers

Colored cardstock paper

Pencil

Scissors

Craft glue
Printable Mother's Day Card Template
Download the Mother's Day Card Template; print and cut out the patterns to make the card. 
Tutorial (step-by-step)
Step 1
Select different colored craft papers for the flowers. Use colored craft papers for the double heart pattern, flowers and leaves. Use cardstock paper for the watering can pattern. Trace the template patterns on the selected papers and cut them out nicely.
Step 2
Roll the spiral patterns to create rolled flowers. Stick 2 flower cutouts together, crisscross wise. Glue the rolled flower on the center of the 2 attached flowers. Also, fold the leaf patterns to create crease along the middle line (lengthwise). Attach the semi circular pattern on teh top side of the watering can, keep it attached on the back side. 
Step 3
One by one attach the paper flowers to the semi-circular part of the watering can.
Step 4
Now attach the leaf cutouts between the flowers and try to fill the semi circular part of the watering can with the paper flowers and leaves. Use a black marker pen to trace a thin border around the watering can.
Step 5
Trace the double heart pattern on a red or pink craft paper and cut it out using scissors. 
Step 6
Attach any one of the hearts on the center of the watering can and keeping the other heart free. Fold the double heart along the line between them to form the heart card. Write down your message inside the card.
Wasn't that fun and easy! Make one for your mom for this mother's day and let her know how awesome she is!
Also, don't forget to share a picture of your version of the mother's day card. You can share your picture with hashtag #craftaholicwitch or just DM your picture to us on Instagram.