Gingerbread House Gift Bags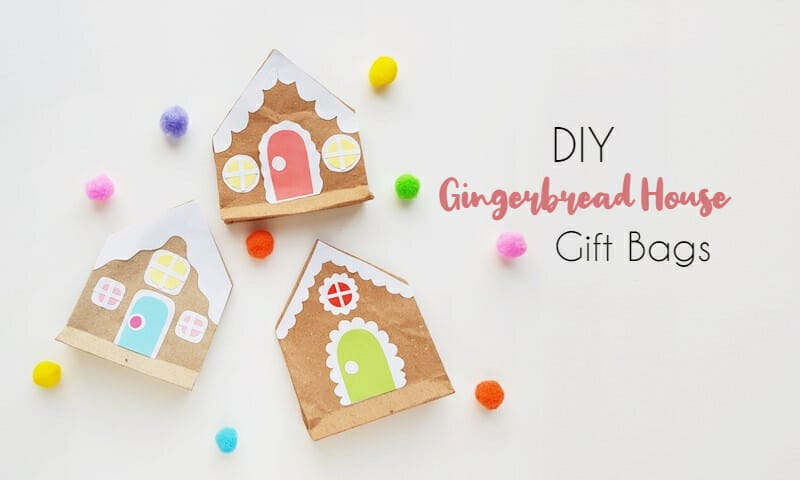 Adorable Gingerbread House Gift Bags!
I've never had the chance to make a gingerbread house but I absolutely LOVE scrolling through gingerbread house pictures! This time, I couldn't resist myself, I had to make these gingerbread house gift bags and they turned out so perfect and cute! Whether it's Christmas or any other occasion, who wouldn't love to receive these super adorable gingerbread house bags as gift packaging! 
Aren't they adorable? They're super fun to make as well. These gingerbread house gift bags can be used for gifts packaging, treats, favour bags and much more! Check out the tutorial and learn how to make them yourself.
List of Supplies
Brown paper bag

Colored craft papers

Pencil

Scissors

Craft glue
Template
Download and print this Gingerbread House Bag Template. Cut out the patterns and get started with the craft!
Learn How to Make Gingerbread House Gift Bags!
Make your own brown paper bag!
You can either use brown bags or make brown bags from brown craft papers. In case you'd like to make your bags, here's a step by step tutorial for it. Simply follow the pictures in this collage and make your own brown bags for this craft. I used 8 inches X 6 inches brown paper to make the bags. You can adjust the size as you want. Determine the size you want for the bags and prepare a paper of double the size of the determined width and 2 inches extra added to the determined height. 
To make the gingerbread house bag, we are going to fold the top open part of the bag from both corners, towards the middle. This will form a triangle top.
Step 1
Select coloured craft papers and white stationary papers for the decoration. Trace the roof and big parts of the doors and windows on white stationary papers and cut them out nicely. Trace the other patterns on coloured craft papers and cut them out as well.
Step 2
Attach the smaller parts of doors and windows cut out from coloured craft papers, on the white patterns.
Step 3
Use craft glue to stick the pattern on the brown paper bag. Attach the roof on the top side of the bag by keeping the open side of the fold on the opposite side. 
Step 4
One by one, stick the door and windows on the paper bag to complete the gingerbread house bag.
Step 5
Add tiny colourful details (from coloured craft papers) to give the bag a fun look!
---
Don't forget to share a picture with us if you craft one! (You can share your picture with hashtag #craftaholicwitch or just DM your picture to us on Instagram.
Happy Crafting!