How to Make Small Paper Flowers (Cosmos)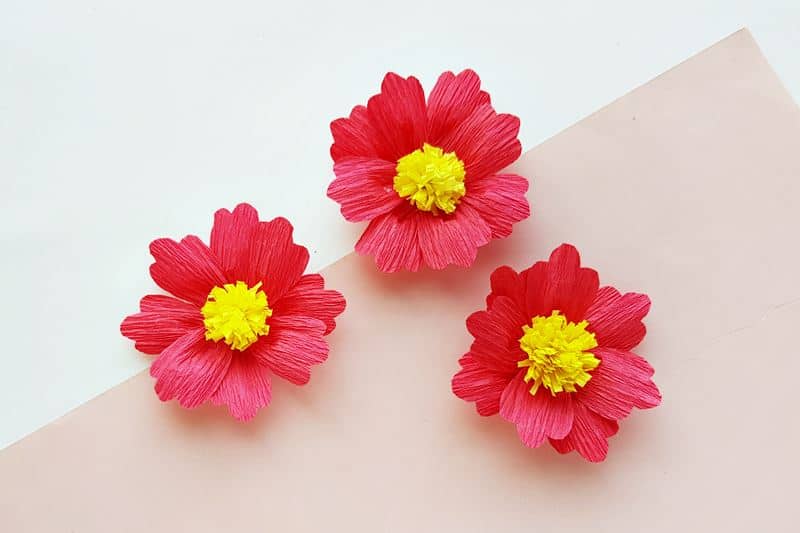 Spring has sprung and Summer will arrive soon! Both the Spring and Summer seasons are filled with colors and pretty flowers! So, we tried to come up with easy-to-make small paper flowers this week. You can use these DIY small paper flowers for many DIY projects, journaling, flat lay photography, scrapbooking, gift packaging, and much more. With the help of a few supplies and our tutorial, you can learn how to make small paper flowers in no time.
DIY Small Paper Flowers
We would prefer to use crepe paper or craft tissue paper for this craft. The flowers would turn out prettier and neater with crepe paper or tissue paper. This craft comes with a  free template for petals, but if you're good at paper crafting, you can probably go for free handcrafting. This time we made some pretty cosmos flowers. Go ahead and give it a try!
Things You Will Need
Tools and Supplies
A pair of scissors
Pencil
Craft glue
Materials
Crepe paper – Yellow, green, and pink
Stationary paper or cardstock paper
Small Paper Flower Template
You can download the
small paper flower template
and print it out. It includes 4 different sizes for the petals, you can choose any size you prefer.
Instructions
How to Make Small Paper Flowers
Step 1: Prepare the Patterns
Select a colored crepe paper of your choice for the flower (petals) and trace the petal template on it. Cut out 8 petals for each flower. Cut out a long strip from yellow-colored crepe paper. Now, keep in mind to keep the
Step 2: Cut Slit on Petal
Use scissors to cut a small (1 cm) slit on the bottom side of the petal. The slit should be cut along the middle, but make sure not to make it more or less than a cm.
Step 3: Overlap Sides
Apply glue along any one side of the slit. Overlap both sides of the slit and join them together on the glued part. Press the 2 overlapped parts firmly to make sure that they are glued nicely.
Step 4: Prepare All Petals
Similarly, one by one, prepare the rest of the 7 petals cutouts. This will give the petals a 3d look.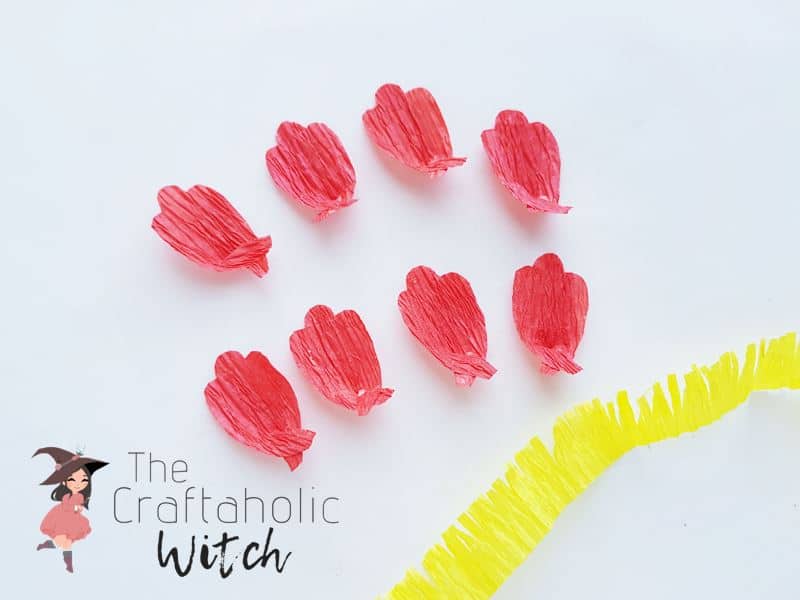 Step 5: Prepare Base
You can also work without a base but it's much easier to work with a base. Using a base also allows you to give the flower a nice look and without ruining the process of arranging the petals. Cut out a small round base from a regular piece of paper or cardstock paper. Apply glue around the sides of the base cutout.
Step 6: Attach 1st Layer of Petals
Grab 4 petals and stick them on the base (on the glued part). Place the 4 petals on the base in a criss-cross way.
Step 7: Attach 2nd Layer of Petals
For the second layer of petals, stick them towards the center of the base. Glue each petal between the 2 petals of the previous layer. Fill the 2nd layer with the last 4 petals.
Step 8: Roll the Center Strip
Grab the yellow strip and cut small, even fringes along either side of the strip. Apply glue along the intact side of the fringed strip and coil the fringed strip tightly. Apply glue at the end of the coil to secure the coiled piece.
Step 9: Attach the Center Piece
Attach the centerpiece (coiled fringed piece) in the center of the base (in the middle of the petals). Use your fingertips to spread open the fringes and give it a blooming look.
Video Tutorial on How to Make a Small Paper Flower Wreath
Tips for Crafting Small Paper Flower
Use thin and easy-to-fold papers.
Crepe paper and tissue paper are great for crafting small flowers.
Use glue stick for joining parts. If you're using white glue, then apply a very small amount.
Do not use hot glue to craft small flowers.
We hope you will enjoy this craft and do leave feedback in the comments. If you try out our tutorial, we would love to see your version of the craft. You can share your picture with hashtag
#craftaholicwitch
 or just DM your picture to us on 
Instagram
.
Happy Crafting!
Thank you!