How to Make Paper (Easy Method of Making Recycled Paper)
In this step-by-step tutorial, you will learn how to make papers at home. It's one of the simplest methods of making handmade recycled papers and needs only a few tools. Enjoy!
Did you know, If every American recycled just one-tenth of their newspapers, we would save about 25,000,000 trees a year [source]? Yes, Papers are one of the most commonly used items in all places. Allow us to take you through a fun and eco-friendly activity on how to make paper from old and used papers. Turn all those used scrap papers, old newspapers, and magazine pages into recycled paper with the help of our tutorial. The whole process may take a little longer than other craft activities but we promise you that it is worth it. Our handmade papers do not require any fancy craft tools, or even any frame, you probably have all the supplies at home. So let's get started.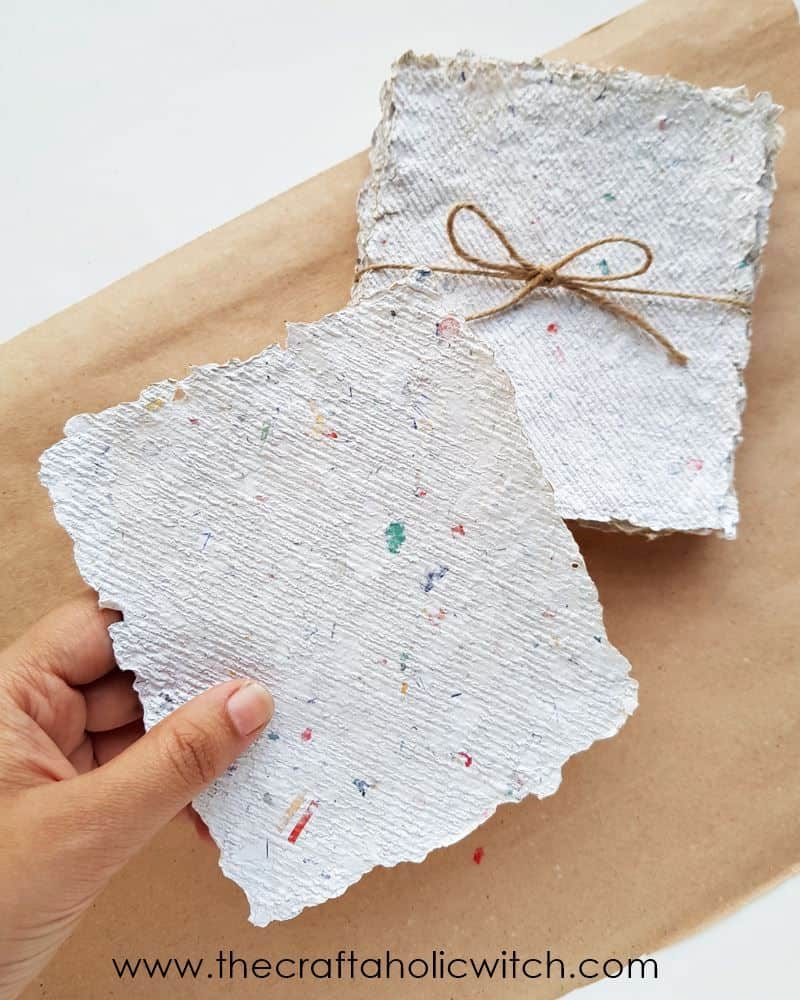 The rustic look of handmade paper gives such an artistic vibe and the very thought of engaging in an eco-friendly project is surely very satisfying. Check out the list of supplies, grab all of them and follow our tutorial to craft yourself some green papers!
How to Make Paper by Recycling Old Papers
List of Supplies to make Recycled Paper
Old/used papers (magazines, newspapers, notebooks, etc.)

A pair of scissors

Clothe (preferably cotton)

Large bowl
Instructions to make Recycled Paper
Step 1: Tear Old Papers, Magazines or Newspapers
Collect enough scrap papers (could be sheets from an old notebook, old newspapers or magazines, etc.) and tear the papers into small bits. You can also use scissors to cut them into small pieces. About 1 x 1 inches of pieces should do but if you can cut them into even smaller pieces that would better. When you're done tearing and cutting the papers into bits soak them in a bowl filled with water.
Step 2: Soak the Teared Papers
As we tried not to use any special tools we let the papers soak in water for a day. If you're looking for a quicker process you can blend the soaked papers after 2 or 3 hours of soaking. We used our hands to mix the soaked water and blend them as much as possible. Leave the soaked papers for another hour. 
Step 3: Prepare the Net and Get Started
We're using a plastic netted sheet instead of the papermaking frame. Carefully, draw any one side of the net into the water, gradually from top to bottom.
Step 4: Allow Paper Mache to Cover the Net
Slowly flatten the net under the water and you'll notice the paper mache gathering on the top of the net. Allow the paper mache to gather on the top of the net's surface as evenly as possible. 
Step 5: Shape the Borders of Paper Mache
Bring the net straight out of the water without changing the flattened position. We used our fingertips to align the 4 sides of the paper mache as evenly as possible. In the case of the papermaking frame, you don't need to worry about the border but since we're using a plain net we had to make the border nice and straight.
Step 6: Place the Paper Mache Side on a Non-Sticky Surface
On a flat surface place a non-sticky material, we're using a polythene sheet. Place the paper mache side of the netted sheet straight on the non-stick surface. For clear instructions on this step, you can check out our video tutorial from the link given below. Use a piece of cotton clothing to soak as much water as possible from the top surface of the netted sheet. 
Step 7: Carefully Take Off the Net
Once you've soaked enough water, carefully take out the net. The paper mache should remain flat on the no-stick surface in this step. 
Step 8: Allow the Flatten paper Mache to Dry
Allow the flattened paper mache to dry overnight or you could place it near a warm and dry place to dry it fast. 
Step 9: Check if the Paper has dried completely
Our recycled papers turned out so fresh and crisp and we absolutely enjoyed crafting them!
If you're having difficulty understanding the whole process of recycled paper making, you can also check out our video tutorial on our YouTube channel.
Watch the video tutorial on how to make recycled paper
Don't forget to subscribe to our channel for more DIY and craft tutorials.
How to Use These Recycled Papers
As we did not use any specialized tools for the handmade papers, they turned out rather rustic. Our recycled paper may not be ideal for writing but it can be used for so many things, for example, our recycled papers can be used as gift tags, for scrapbooking, journaling, watercolor art projects, photography props, notes, and much more! 
---
Recycling seems satisfactory to me. Probably that's why I made too many recycled crafts. Here are some of them. If you are into recycling, you'll like them too.
I hope you enjoyed our how to make paper tutorial. If you make this at home, don't forget to share the photos of your version of homemade recycled paper with us. You can share your picture with hashtag #craftaholicwitch or just DM your picture to us on Instagram.