DIY Beaded Wire Ring (Anyone Can Make It In 6 Easy Steps)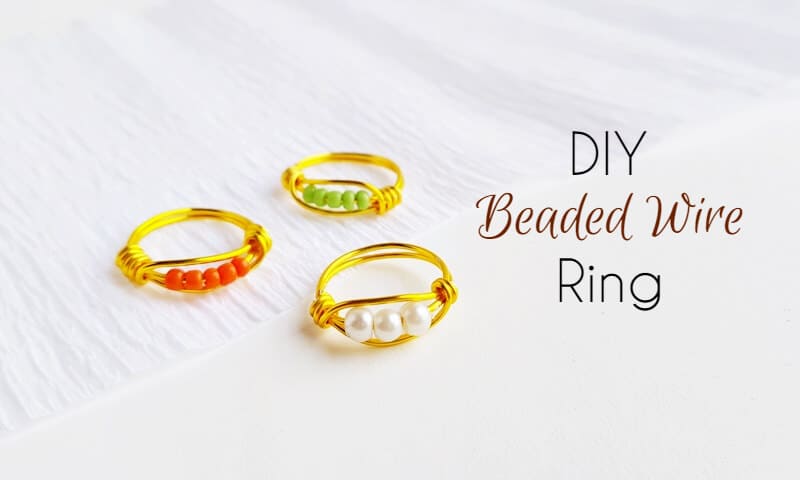 Who doesn't love wire rings? In this tutorial, you will learn how to make a beautiful wire ring with beads in just 6 easy steps.
DIY Beaded Wire Ring (Make Your Own Jewelry)
Back to beads and wire jewelry making after a LONG time! I used to make tons of beaded wire jewelry back in 2013 and continuing until 2016 maybe but haven't been making any in a while. I must say, my wire jewelry-making skill has worsened and I was quite disappointed about it. So, I tried to get back on track with this super simple beaded ring tutorial.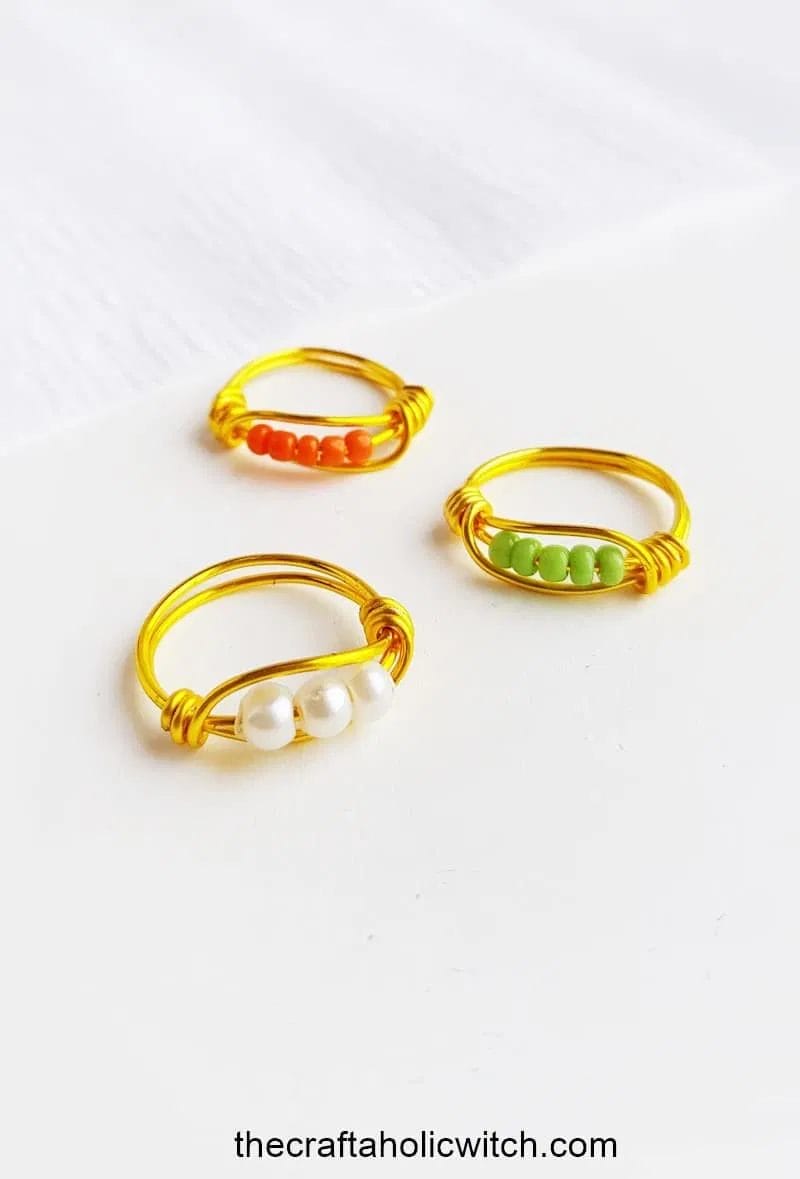 This DIY beaded wire ring can be great for everyday use and also a super cute gift for a loved one! Grab some cute seed beads, craft wire and pliers and get crafty! 
List of Supplies
How to Make Wire Rings with Bead
Step 1: Preparing the Wire and Beading
Measure the required size for the ring. Cut a long piece of craft or jewelry wire from the bundle (about 12 inches will do). Try cutting a longer piece of wire as you can adjust the size later if it's too long but you won't be able to add wire if it falls short.
Select seed beads of your choice and insert them into the cutout wire. I've inserted 3 small faux pearl beads into mine.
Step 2: Wrapping the Wire
Bring the beads in the middle of the wire and hold them firmly while wrapping the 2 sides of the wire around the mandrel (Keeping the ring a size bigger than the required size).
Step 3: Adjusting the Ring Size
Nicely wrap both sides of the wire around the mandrel; circling 1 side around the top and the other side around the bottom side of the beaded wire. Press the wrapped wire against the mandrel to give the ring round and smooth shape. Adjust the ring size in this step.
Step 4: Taking the Raw Wire Ring Out
Carefully take out the wrapped beaded wire off the mandrel.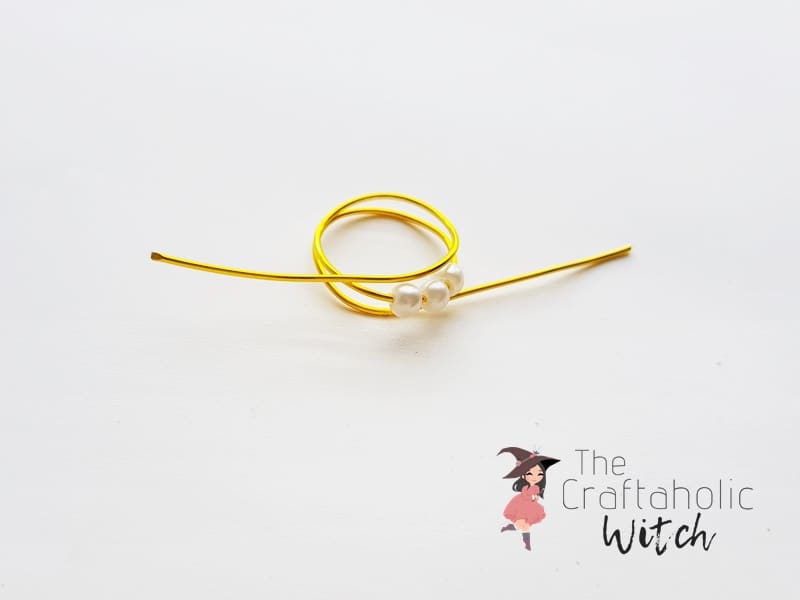 Step 5: Coil Wire Around Ring Band
Hold any one of the open ends of the wire and coil it around the ring band adjacent to it. Coil the remaining wire around that band firmly and evenly.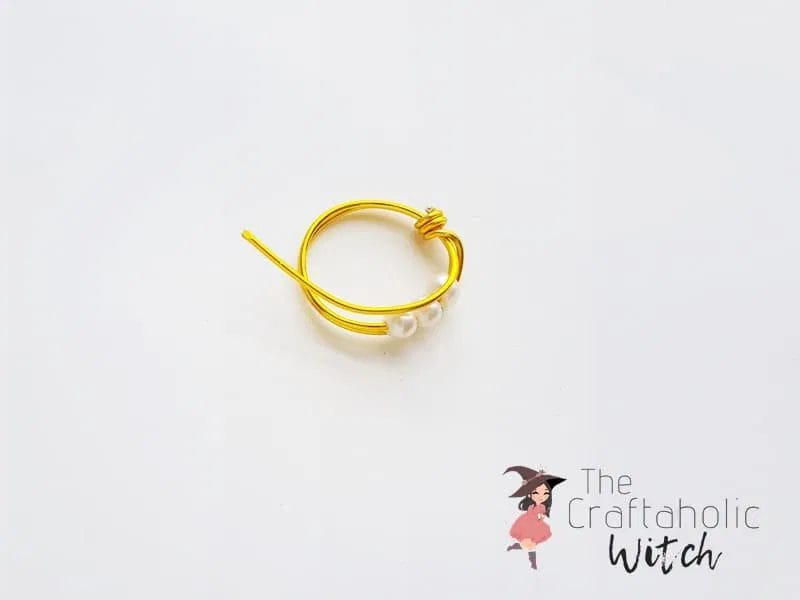 Step 6: Coil Wire Around Both Ring Bands
Similarly, coil the other open end of the wire around its adjacent band.
Once again, insert the ring into the mandrel to check the size and again, press the ring against the mandrel to give the ring a smooth finishing.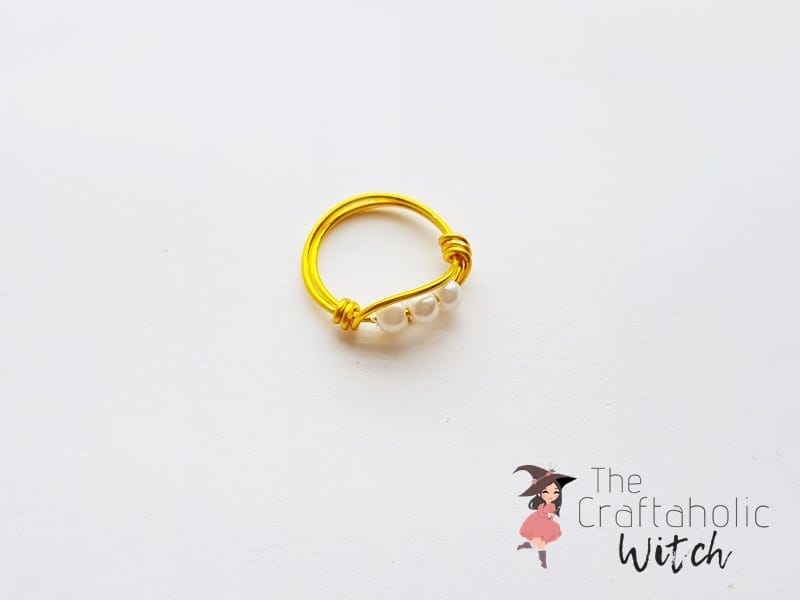 Use different colored and types of beads, and different colored wires to bring variation in design. 
Don't forget to share a picture if you make one! You can share your picture with hashtag #craftaholicwitch or just DM your picture to us on Instagram. 
Happy Crafting!
More Jewelry Making Tutorial You May Also Like