How to Paint Roses in Acrylic (Easy Tutorial for Beginners)
In this tutorial, We will show you how to paint roses in acrylic in few easy steps.   This step-by-step tutorial is a great start for beginners. If you've been thinking about learning to paint or maybe paint something during a weekend, this tutorial is it!
Playing with colors is one of the greatest joys for me and making flowers is another one. So, I thought why not paint flowers this time and show you how to paint flowers in acrylic. Initially, I thought of painting sunflowers but eventually shifted toward roses. Do you know what is the best thing about painting a rose or any other flowers? That is, you don't need to paint the elaborate and intricate details of flowers to make them look beautiful. Even a beginner can paint these roses and hang them on the wall. This is probably why a lot of people start painting acrylic with flowers.
Although these roses are easy to paint and good to start with, there is a lot to learn about the acrylic painting medium and techniques of acrylic painting. I am not a professional and have been working with acrylics for just over a year. I've learned a lot about this painting medium from the book Complete Guide to Painting in Acrylics by Lorena Kloosterboer. It is the bible of acrylic painting technique. If you want to go deeper into acrylic, I recommend this book.
An 8×8 inches canvas would cost around $2, a set of 12 acrylic paint tubes cost $8, and a set of 8-10 watercolor paintbrushes cost around $5. If we calculate an average cost for our how to paint roses in the acrylic project, it would be around $5 as you can reuse the paintbrushes and have most of the paints left even after painting the roses.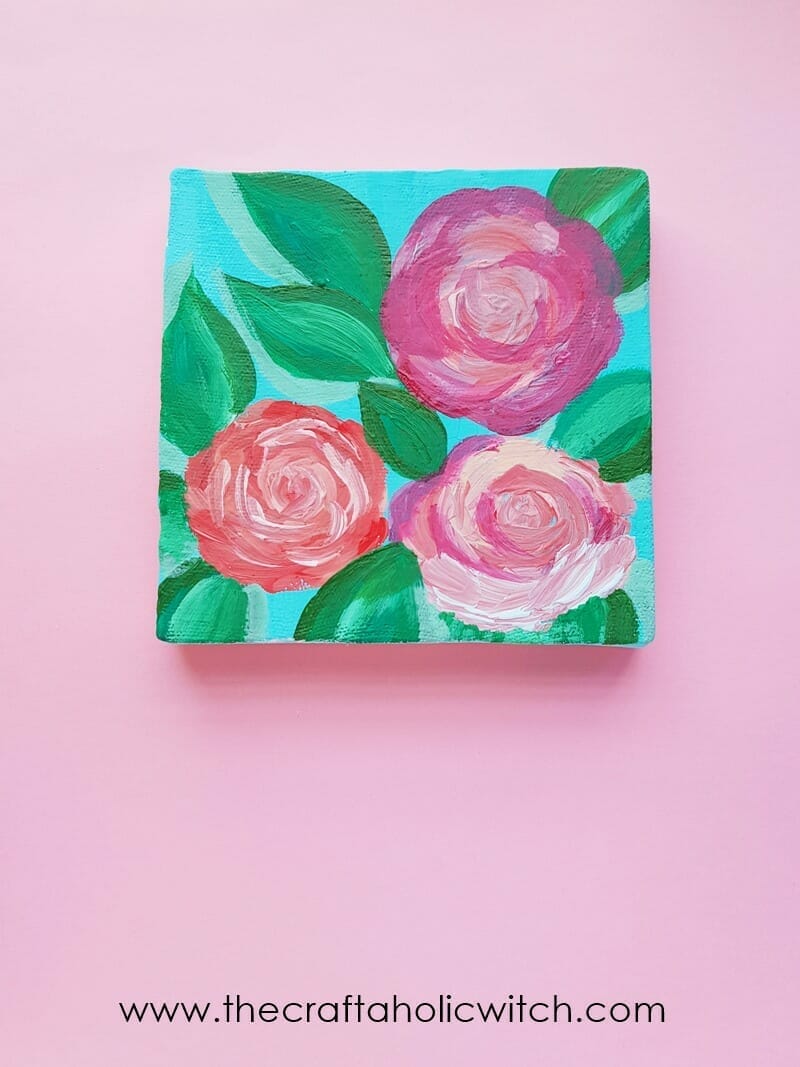 Things You Will Need to Paint Flowers
Materials
Tools
How to Paint Roses in Acrylic
Instructions
Step 1: Draw a Rough Pattern
You can apply a coat of white paint before starting, though this step is optional. If you do paint the white layer, make sure it dries entirely before you start the rose painting. After the white coat dries, use a pencil to trace the positions of each flower to get an idea.
Step 2: Paint the Base Coat
Select a color for the background of the rose painting. We've prepared a teal shade to paint the canvas. Simply paint the canvas from one side and continue painting all the way to the other side.
Step 3: Create Ombre Shade on Base Coat
Try creating an ombre shade if possible. To create an ombre shade of teal, you need to dip the brush (from the 2nd and every next time) into white paint after dipping it into teal paint. And then paint the canvas until it is filled entirely. Once you are done painting the canvas, allow it to dry completely before painting the roses.
Step 4: Start the Rose Paint Outline
We have prepared a dark shade of pink for the first rose. If you're planning to paint a different colored rose, just make sure to choose the darker shade of that color. Paint a rough round outline of the rose with random dashed strokes around the outer circle of the rose pattern.
Step 5: Fill the Outline with Rough Strokes
Now fill the round rose outline with the same shade but do not fill the outline; paint in a circular motion with dashed strokes inside and outside the round outline.
Step 6: Add Strokes with a Different Shade
For the next strokes, we have selected a lighter shade of pink and similarly painted dashed circular strokes over the previously painted rose pattern. Overlap certain parts of the previously painted pattern but do not paint over it entirely. Use a thinner brush (3 or 4) to give the painted pattern a rose-like shape.
Step 7: Add a 3rd Shade
For the 3rd shade, we prepared another lighter shade of pink and painted circular dashed strokes around the center of the rose pattern. Make sure not to overlap the other 2 shades too much. The 3 different shades of pink should be clearly visible.
Step 8: Work with Overlapped Strokes to Smoothen the Pattern
Select a thin brush of size 3 or 4 to paint around the outer side and slightly overlap some of the previous shade patterns. Similarly, we've painted 2 more roses.
Step 9: Paint Leaf Outline
Use a green shade of acrylic paint and paint the leaf outlines around the roses.
Step 10: Fill the Leaf Outlines
Fill the leaf outlines with the selected green acrylic paint.
Step 11: Add Shades to the Leaves
Use different shades of green acrylic paint to give the leaf patterns a nice and finished look. Use 2 to 3 different shades of green acrylic paint to fill each leaf from one side to the other side. Simply paint with straight and smooth strokes. You can give the painting a final touch with each of the shades used.
Step 12: Final Touches
Allow the paint to dry when you're done painting. And done! You can use different shades of acrylic paints for variation. Also, adding more or less rose and leaf patterns can also bring a different look to the final piece. The possibility is endless, so get creative and learn how to paint roses today!
We really hope that you enjoy this project if you get a chance to give it a try, it'll be worth it, we can tell you that! We would really appreciate it if you share this with the people who may like to learn how to paint roses in acrylic.  Share pictures of your version of the painting with us if you do give them a try. You can share your picture with hashtag #craftaholicwitch on Instagram or Facebook or just DM your picture to us on Instagram or Facebook page.
BTW, If you enjoy our how to paint roses tutorial, you can also check out our abstract painting tutorial for beginners.
Thank you!