DIY Sunflower Coasters ( Easy Step by Step Tutorial)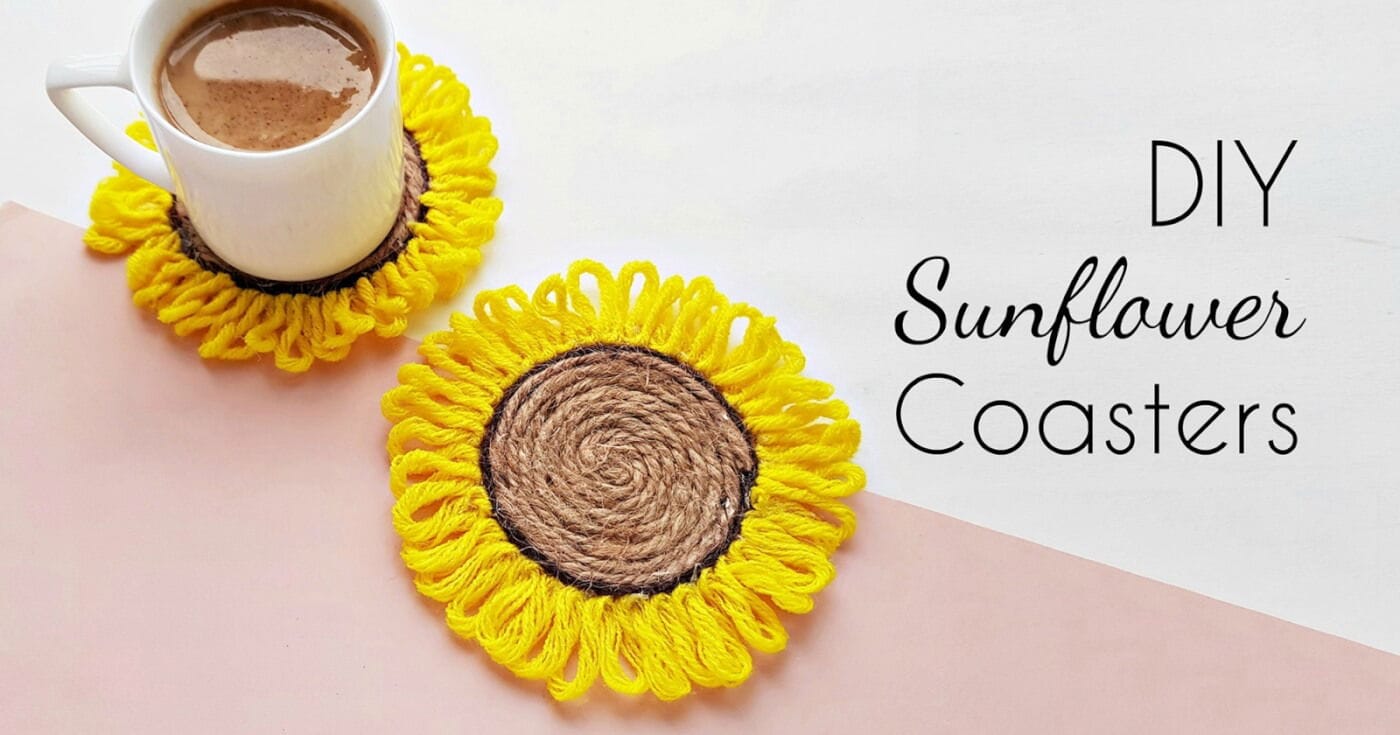 DIY Twine Sunflower Coasters
Summer is almost coming to an end and we thought that this last-minute summer craft would be fun. These DIY sunflower coasters are perfect to celebrate the end of summer and to welcome Fall! Let's celebrate the transition of Summer to fall with these cute and easy sunflower coasters! Also, keep an eye on the blog for some fun and cheerful fall crafts, you want to miss them!
These sunflower coasters would definitely brighten up space and perfect as a gift as well. If you're looking for more fun and easy twine coaster ideas, you can check out our Stylish Twine Coaster, they can add a hint of aesthetic beauty to your home decor.  
List of Supplies:
Felt Craft foam sheet 

Natural twine

Brown yarn

Yellow yarn

Hot glue gun

Scissors
Instructions for Making Sunflower Coasters

Cutting the Base
Selecting a material for the base of the sunflower coaster is very important. You can use craft foam sheet or felt fabric for the base, we're using craft foam sheet. Also, keep in mind to use yellow coloured material for the base (for a neater finished look). Determine the size of the coaster and cut out a round shape from the craft foam sheet or felt fabric 2 cm smaller than the determined size. 

Creating the Twine Layer
Grab a natural jute twine and start to attach the twine on the base material from the centre of the base. Continue to attach the twine adjacently by forming a coil towards the outer edge of the base. This will basically be the centre of the sunflower coaster. Keep increasing the size until you're happy with the pattern. Use hot-glue gun to attach the twine to the base material. 

Starting the Border (Petals)
Done crafting the centre part of the coaster? Grab a strand of brown yarn and add a border around the previous twine attached to the base. Take the yellow yarn and create a small loop and attach the open ends with the base twine. Consider each loop as a petal of the sunflower coaster. Oh, use hot glue to attach the yarn as well. 

Sunflower Petal Border
Keep creating loops and attaching them to the base twine border until the entire border is filled. 
In case you're having a hard time following the picture tutorial, you can go for the detailed instruction! Check out the video tutorial on our YouTube channel. 
Don't forget to subscribe to our YouTube channel and please do share a picture if you recreate our crafts. 
Have a wonderful day!