How to Make a Beautiful Aster Flower Wreath at Home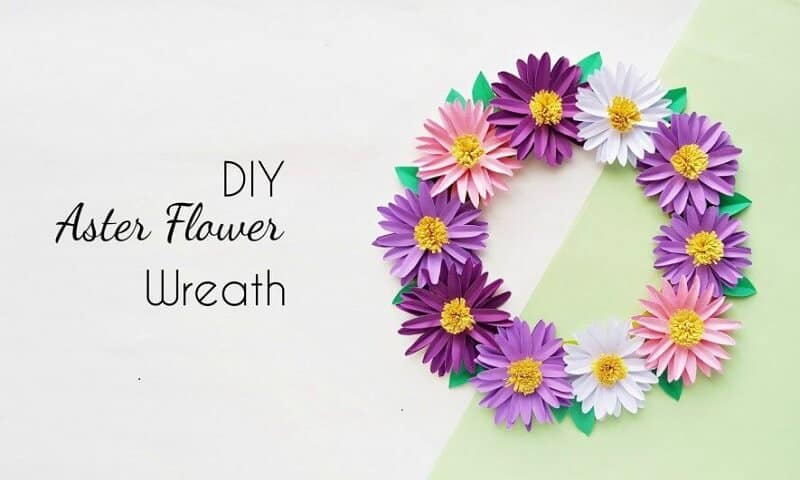 Papercraft Aster Flower Wreath (Fall Craft)
Have you started celebrating Fall yet? How about a DIY Flower Wreath Project? Why not try this papercraft aster flower wreath as your fall project?
I was already so excited even before Fall arrived and made a list of some fun and beautiful fall crafts; most of them include Fall flowers of course! Really happy with how closely alike the flowers turned out to be and it's relatively easy to craft. You won't need a template for the pattern because I came up with a folding and cutting trick for this craft. Grab some papers, glue, and scissors, and get crafty!
List of Supplies:
Craft glue

Pencil

Scissors
Learn How to Craft Paper Aster Flower Wreath
Craft Paper Aster Flowers
To make the paper aster flowers you can check out the tutorial from our YouTube channel. The link has been given below-
You don't need much to craft these beautiful aster flowers. Grab some craft papers, a pair of scissors and craft glue; and you're good to go!
Prepare the Wreath Base
Determine a size for the flower wreath. You can trace and cut out a round-shaped (or any other shape you want) from cardstock paper. You can also use store-bought wreath, whichever you prefer. I used a green coloured cardstock paper to make a round wreath; kept the width about 2.5 inches and diameter was 12 inches. The width of the base should be enough to place at least 1 flower nicely. 
Cutout Leaves from Green Paper
Simply trace and cut out leaf patterns from green coloured craft paper or cardstock paper. Aster flower leaves are pretty much of an ideal leaf shape. use a pencil to trace and cut out the leaves.
Attach Paper Asters to the Base
Start attaching the papercraft aster flowers on the wreath base one by one. Try keeping the flowers adjacent to one another but don't overlap the flowers too much. 
Fill the Base with Flowers
Keep attaching the flowers on the wreath base until the whole wreath is filled. Making sure not to leave any space between the flowers. 
Attach Paper Leaves to the Wreath
And finally, stick the paper leaves in between the flowers on the base. Cut out a string or yarn and attach it on the backside of the wreath base for the hanging mechanism. The fall aster flower wreath is complete! You can also use the aster flowers as decor pieces, props or to make other crafts.
Happy Fall!