Create Wire Wrapped Bead Eartops
If you love simple accessories and jewelries for everyday use then this project would be perfect for you. All you need is pairs of colorful, beautiful beads, some craft wire and pliers…. you're good to go! 
Check out the list of supplies and follow the instructions.
Supplies:
Craft wire – 18 gauge

Jewelry pliers

Faux pearl bead or round bead

Rubber eraser
Instructions:
Hold wire from an end without cutting it from the bundle. Use the flat nose pliers to bend the wire into 90 degrees, according to the bead size. I used 8 mm pearl bead so I had to bend 8 mm wire to 90 degrees.
Insert bead into the bent part.
Now carefully wrap the wire around the bead 2-3 times.
I wrapped the wire 3 times and kept the wire flat while wrapping but you can wrap over and over again if you want a thicker border around the bead.
Done wrapping the bead? now to make the stem of the earring. Bend the wire downwards from where the wrap ends, see the second picture of the previous step.
Now use the flat nose pliers to make another 90 degree (or more) bend on the wire on the center of the bead.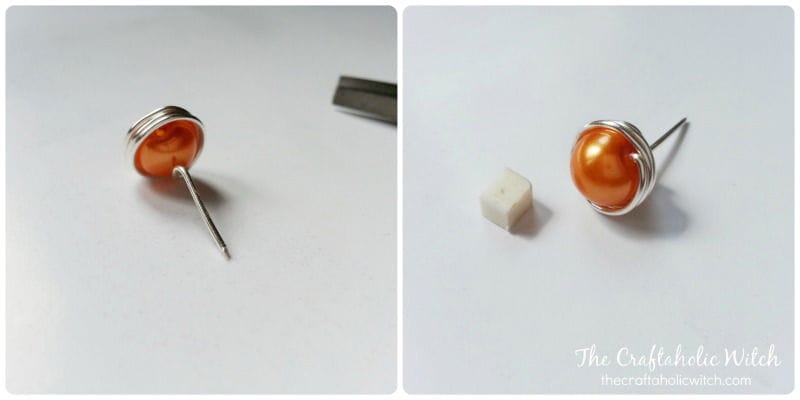 Keep 2 cm of the bent wire straight for the stem and cut the wire from the bundle.
I used an eraser or rubber to make the earring backs. Use x-acto knife to cut the eraser into small square pieces. Carefully push and screw the stem of the ear stud on the small eraser pieces to create a hole on it. There, you have backs for the earrings.
I made 9 pairs of these in 30 minutes! They're great for everyday use and nice as gift as well!
Make some, enjoy wearing'em or gifting a a friend!