Create Sea Shell Earrings
I love to make jewelries and accessories, for myself and for gifts. I love simple earrings, they look elegant… and… well, simple! Few months back, a friend gave me a bunch of seashells, she knows I'd die for those seashells! I already had a long list of seashell craft ideas and the earrings was on the three list. I tried to come up with a seashell earring design which can be made easily even by beginners. So here it is! Check out the tutorial and try making a pair.
This earring project requires the basic craft supplies, I'm sure you have them at home. The steps are really easy to follow. Check out the tutorial!
Supplies:
Sea shells – 2

Craft wire – 18 gauge

Craft pliers

Faux pearl beads – 2

Craft glue

Wooden board, awl and pencil
Instructions:
Step 1
I used thin sea shells so I made holes in them quite easily. Mark the spot for making a hole on the inner side of the sea shell. Place the sea shell on a wooden board. Gently rotate the awl on the marked spot and apply pressure carefully. Once a small hole is made you can stop rotating the awl.
Step 2
Now, turn the shell around. Use the awl carefully to enlarge the hole and give it a smooth round shape. Similarly make hole on another sea shell, we'll need two of them since we're making earrings.
Step 3
I used faux pearl beads. Select the pearl beads of your choice but I would suggest to use white, off-white and cream color, they look great!. Simply glue the pearl bead on the center of the shell. Allow the glue to dry in case you're using white glue or craft glue.
Step 4
You will need 2 jump rings and 2 earring hooks to complete the earrings. I made them from silver coated craft wire but you can use store bought jump rings and earring hooks as well.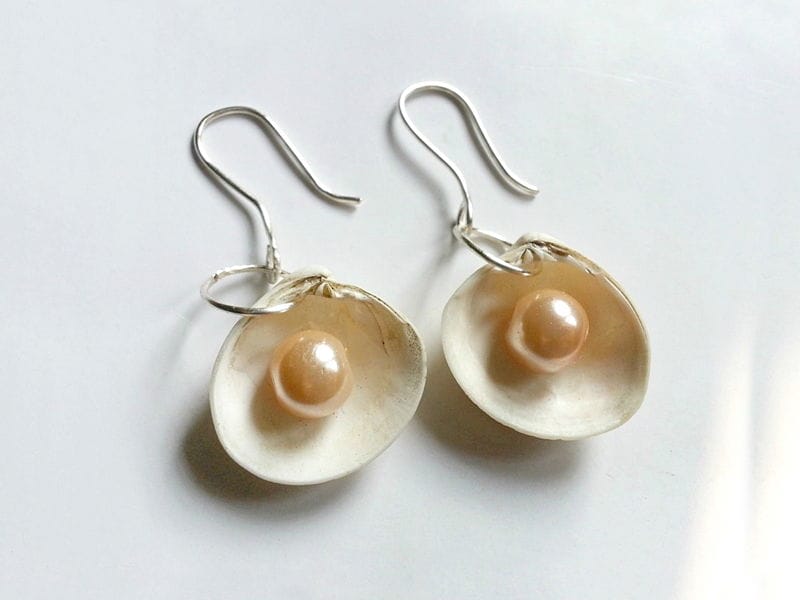 Step 5
Attach the jump ring with the sea shell through the hole we've made before and also attach the hook through the jump ring.
Done! You can use different kinds of shells and faux pearl beads for more variation.
Happy crafting!