DIY Cute Mermaid Bookmarks (Free Template)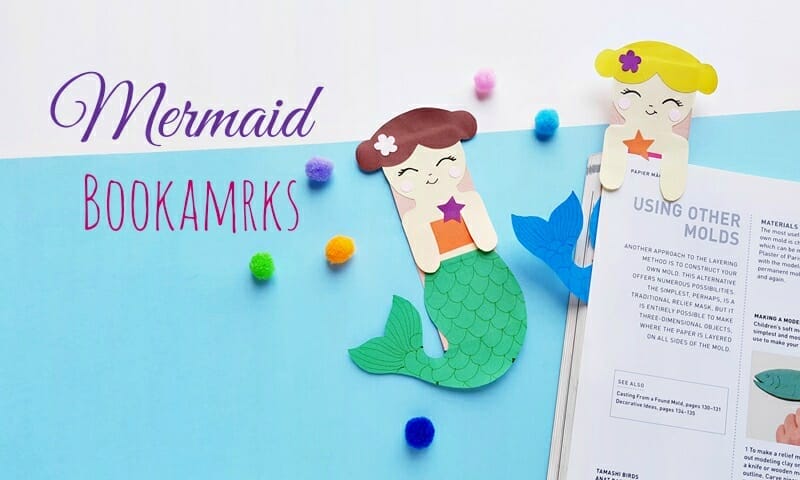 I've been into crafting bookmarks lately and these mermaid bookmarks are totally on my top five list. Cardstock or paper bookmarks are fun and easy to make; with some basic craft supplies, you can make so many different patterns of bookmarks. Besides, who wouldn't love to have a mermaid bookmark that hugs the book! Craft one or 2 and surprise your book lover friend with cute mermaid hug bookmarks.
Check out the list of supplies and follow the instructions to make these little cuties. meanwhile, check out my Tulip Bookmarks made from craft wire, they're fun to make and great for beginners.
Things You Will Need
Supplies
Colored craft papers
Cardstock paper
Pencil
Scissors
Craft glue
Mermaid Template
Grab all the supplies and get started by printing the Mermaid Pattern template.
How to Make Mermaid Bookmarks
Step 1
Select different colored crafts papers to make the mermaid patterns for the bookmark. Select cardstock paper to make the base of the bookmark. Print and cut out the template patterns. Trace the base pattern on the cardstock paper and the rest of the patterns on the selected colored crafts papers. Cut out the traced patterns nicely.
Step 2
Take the upper body pattern of the mermaid and attach it with the base, making sure to level the straight side of the mermaid's head with the base end. Do not glue the hands of the mermaid with the base, keep them free.
Step 3
Take the rectangular pattern and place it under the hands; pushing it all the way to the closed end and then apply glue to secure its placement. Then, attach the hair and the star cut out on the mermaid.
Step 4
Take the mermaid tail pattern and use a colored pen or pencil to draw scallop patterns on it.
Step 5
Glue the mermaid tail on the lower part of the bookmark base, by overlapping half a cm of the lower body part of the mermaid.
Step 6
Use a black sharpie to draw the face details. I did a freehand drawing of the mermaid's eyes, nose, and lips.
And done! Give your book a mermaid hug!
We hope you will enjoy this craft and do leave feedback in the comments. If you try out our tutorial, we would love to see your version of the craft. You can share your picture with hashtag #craftaholicwitch or just DM your picture to us on Instagram.
Happy Crafting!
Thank you!