DIY Tissue Paper Hyacinth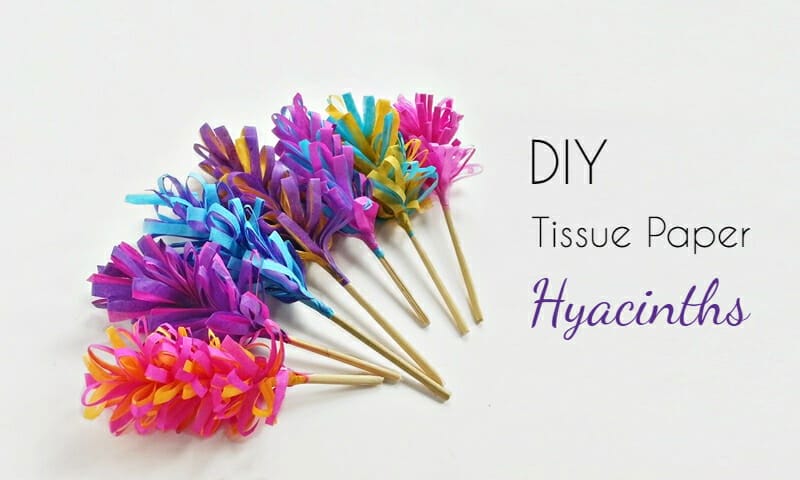 Create Beautiful Tissue Paper Hyacinth
Looking for a fun and colorful craft project to try out this weekend? Well, in that case, these tissue paper hyacinth flowers would be perfect.
Once you get handy with this flower making technique you'll become addicted! Besides, these flowers can be great as gift box toppers, party decors and a fun craft project for kids. All you need is some basic craft supplies and 2 minutes to make one. So what are you waiting for? Give it a try!
Supplies:
Craft tissue paper

Scissors

Craft glue

Sticks
Instructions:
Use 2 different colored craft tissue papers to make each flower.
Step 1
Cut 2 pieces of craft tissue papers, both should be rectangular and of the same size. Place both tissue papers together.
Fold the tissue papers into half lengthwise.
Step 2
Use scissors to cut small and even fringes along the closed end of the folded tissue papers.
Keep 1 cm intact along the open end of the folded tissue papers.
Step 3
Take a small piece of stick for the stem of the flower. Apply glue along the intact part of the fringed paper.
Hold the glued part slightly vertically with the stick as shown in this picture.
Step 4
Start rolling the fringed paper around the stick and move downwards.
Roll the whole fringed paper until reaching the end.
And it's done! Wasn't that fun and super easy? Use bright colored craft tissue papers and make as many as you want.
Enjoy!