An Interview with Saifullah Galib of Kichuna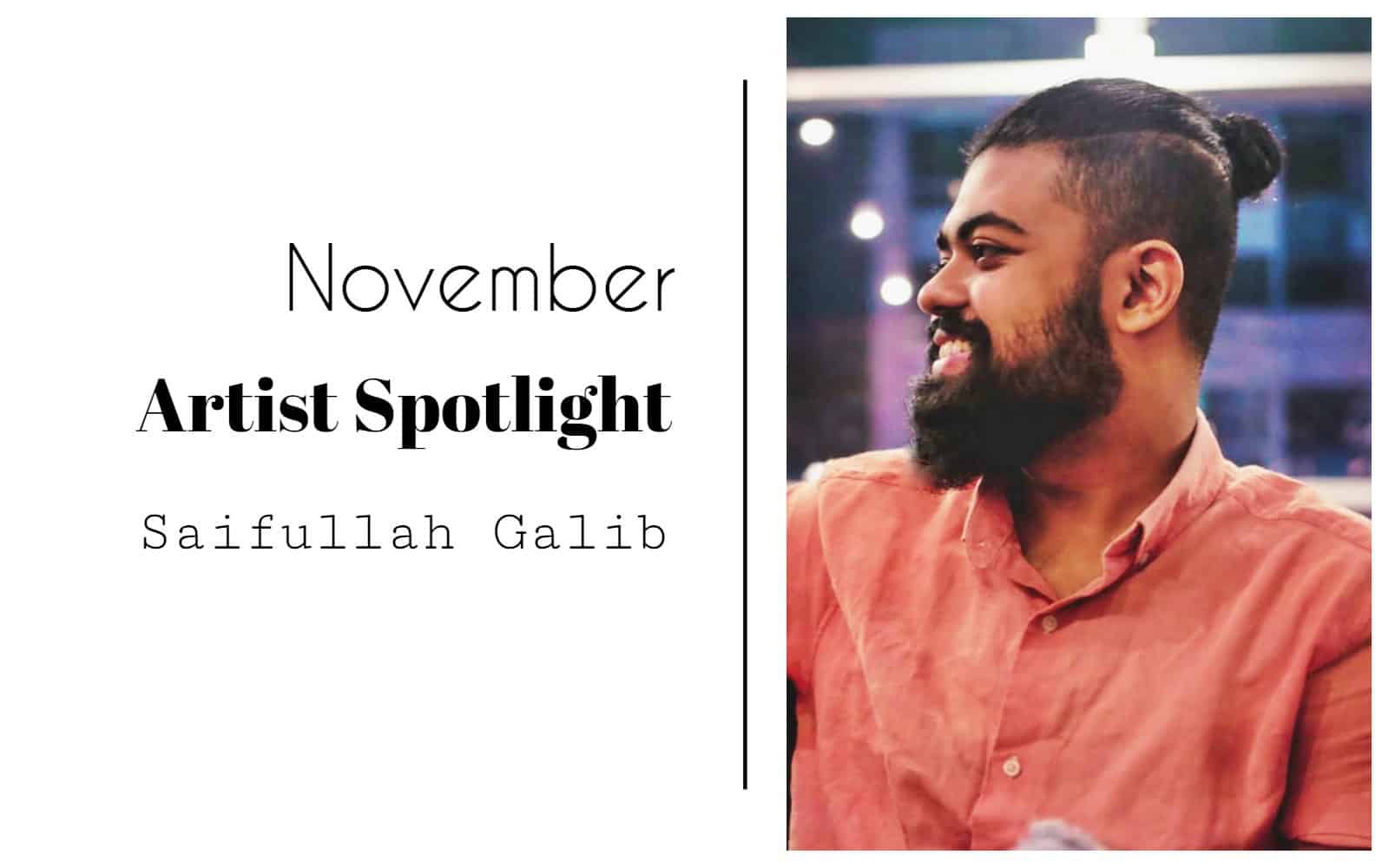 The ancient rule-makers of arts and crafts who once used to abide by the unbreakable ordinance of a fixed medium would be vehemently denied by the artists of today's generation. The concept of requiring a medium to draw on is still there. However, the list has lengthened and is getting longer every time an artist puts his or her creative self into action. What actually helps people make art out of absolutely anything is perceiving everything to be an art of their own kind.
At least, the owner of Kichuna, Saifullah Galib thinks that way. A very famous quote from the much-celebrated book "Eleanor Oliphant is Completely Fine" is seen to be ornamenting the about section of the Facebook page of Kichhuna, which implicates why all of its products are arts in the form of daily accessories, which are rather very unconventional media. This month, we are going to learn about the person whose hands of an artist and mind of a creator are responsible for all the beautiful creations of Kichuna ART. The strokes of his brush and acrylic from his palettes and tubes are seen on random objects and bring out the life of mundane things. The customised bags, canvas shoes and pendants of Kichuna have catered to the base demand of the customers for artsy products, and it's time to feed our curiosity for knowing a little bit more about the creative head and the owner of this online shop.
Content Editor: Rifah Nawar
IG handle: @parchmentstains
November Featured Artist: Saifullah Galib of Kichuna
Q. Tell us a little about your creative-journey, how and when did it spark a start?
My journey with "কিছুনা" has been quite interesting! I started it without any expectations. You can already sense that by the name! Ever since I was a child had a lot of interest in art and kinds of stuff but I was not into any traditional art form! Back in 2016, I started making art! And I paint on anything! Mostly I love painting on Shoes, Bags, Jackets and few walls here and there.
The products of Kichuna would second his statement. Canvas shoes, bags, t-shirts, lighters – everything has got an artistic touch of Saifullah Galib's brushes. His freestyle mode of painting tells us about his self-taught art education and how much passion and dedication are intertwined with his creations.
Q. What are your indispensable tools and materials?
As My art Form is painting, brushes are the most important tools!
One of the perks of doing freestyle is never having to worry much about tools. The merchandise, if Saifullah's online shop, also suggests that cares little about the medium of his art. Like we said before, his philosophy is all about bringing life out of everyday mundane things through a bit of art.
Q. Where do you look for inspiration?
I really love the folk culture around the world! It could be ancient Egypt's hieroglyph or African tribalism! I mostly seek into history for inspiration!
The content of our artist's art actually refers to the diversity of his source of interest and inspiration. Starting from very common rickshaw arts to Netflix series characters to Van Gogh – all of these ideas might seem like dwellers of different worlds, but they have been brought under the same roof by our featured artist. Unlike most other artists, he has chosen a wider arena, and that's what makes his arts special
Q. Where do you see yourself/ your business in the next 5 years? Do you have a vision?
In the next 5 years, I want to see myself making art, Just like now! Keep doing what I love!
In this fast-paced world where everyone is busy to win their own rat-race for success, even the creative souls, our artist's philosophy regarding success sets him apart. His vision might seem minimal and ordinary to some people, but that's where lies his own quintessence of victory and pleasure.
Q. Among all the things you create, what is your most favourite craft?
I love my every creation. Each of them is made with the same love and passion! Can't make myself choose one!
One of the toughest jobs for an artist is to choose one of his or her own art as noteworthy by pushing the others back. Being the inhabitants of the same arena, we can fully relate to this sweet dilemma of our artist. To an artist, his or her creations are like their own children; it is difficult to like one more than the others
Q.  Other than crafting, what other hobby do you have?
I love making music too! Basically, I love DOING anything that's creative! I have a lot of interest in architecture and designs also!
The answer makes us remember that old made-up adage: Once a creative, always a creative. We think that is the reason why all other interests and hobbies of our artist involves creativity.
Q.  Do you have any special piece of work which holds a good memory?
As I said, every art piece holds a special place! Can't make difference between them!
Honestly saying, we think our featured artist holds a righteous stance by all of his creations, and that is truly a laudable gesture
Q. What is your advice to newbie artists and crafters?
I'm not a great artist to advise anyone! But I can say if you are really passionate about anything, You'll find a way to achieve it! Just be yourself, work hard and be patient!
Although he does not mean to be any sort of advice, his saying holds the secret and the gist of everyone successful out there. Passion and dedication is the building element of anything and everything big. Alongside that, one needs to be patient and resilient because every great thing takes time to come. None other than Saifullah of Kichunaart can understand it better.

Throughout the decades, creative souls have employed their artistic self for self-expression through reaction. Through the accessories of Kichhuna, Saifullah has been doing that as well. But, by incorporating arts with accessories, he has provided the scope for everyone to channel their inner "sucker for arts" side of the mind. Thus, expressing oneself with art is no longer limited to those who can create it. Personifying creativity and concurrent matters, Kichhuna is doing a great job. We wish Saifullah Galib and this unique venture success and we hope that he continues his works and keeps on meeting the Promethean needs of general people.
Don't forget to head over to this talented artist's Instagram page and check out his creations, the link is given below-